About Vete-katten
Behind our store and restaurant there is an area that is larger than you might think. A maze of corridors, rooms, stairs and culverts crosses the old turn-of-the-century building. Here, bakers, confectioners, chefs, pantry chefs and serving staff rush back and forth with troughs, piles of dough and trays, just as they have done for almost a century.
Our story
Vete-Katten was founded in 1928 by a driven woman named Ester Nordhammar. At that time, few companies were run by women, and even fewer pastry shops. Although 42-year-old Esther had long work experience, she had barely set foot in a bakery. Her idea was to start a simple patisserie where everyone was welcome, "decorated like a rectory", as someone said, with pastries, bread and buns of the highest quality. Then there was that thing with the name. Why are we called Vete-Katten? Well, it is said that the name came about after Ester was asked what her pastry shop would be called, and then answered "Ja, det vete katten", which in Swedish can mean both "the cat knows" and "the wheat cat".
Another idea Ester had was to exclusively employ young women, which she lived up to until she passed away. She teamed up with a partner, Anna Skog, who initially was responsible for the production. After a few years Anna left and Ester continued to run Vete-Katten by herself until 1961 when she willed the patisserie to four of her employees. Two of them remained until 1979 when Vete-Katten was sold to Agneta and Östen Brolin. They in turn sold the legendary patisserie in 2012 to master pastry chef Johan Sandelin, who has worked in the company since 1997 and ensures the spirit of Vete-Katten lives on.
Johan Sandelin
Our master pastry chef Johan Sandelin has worked at Vete-Katten since 1997. But that he would one day become a pastry chef was anything but obvious. Originally trained as a sous chef, Johan worked at various restaurants in Stockholm. But one day he caught a glimpse of something that would make him change course. In the kitchen, he noticed some people sawing a crocodile out of ice. This evoked a desire to create and sculpt in Johan. He therefore began his career as a future confectioner by practicing at a French confectionery for three years. When Vete-Katten was looking for a new pastry chef, he just had to take the chance, spurred on by the challenge of working at a pastry shop with such great ambitions and high demands. Since day one, Johan has had a dream of one day taking over Vete-Katten and in 2012 the dream came true and Johan became a co-owner.
Johan's talent and motivation has led to great accomplishments, both for Vete-Katten and for himself. Over the years, he has won several awards for his pastry skills. In 2002 he became Pastry Chef of the Year, in 2010 he was elected to the National Chefs Team and in 2013–2015 he founded and was team leader for the National Pastry Team. In 2014, the team managed to both finish third in the Pastry Chef European Championships and to win the Nordic Championships. His last year as a team leader ended with a 7th place in the Pastry Chef World Championships with exhibits including a chocolate Viking ship and a Viking made out of – you guessed it – ice!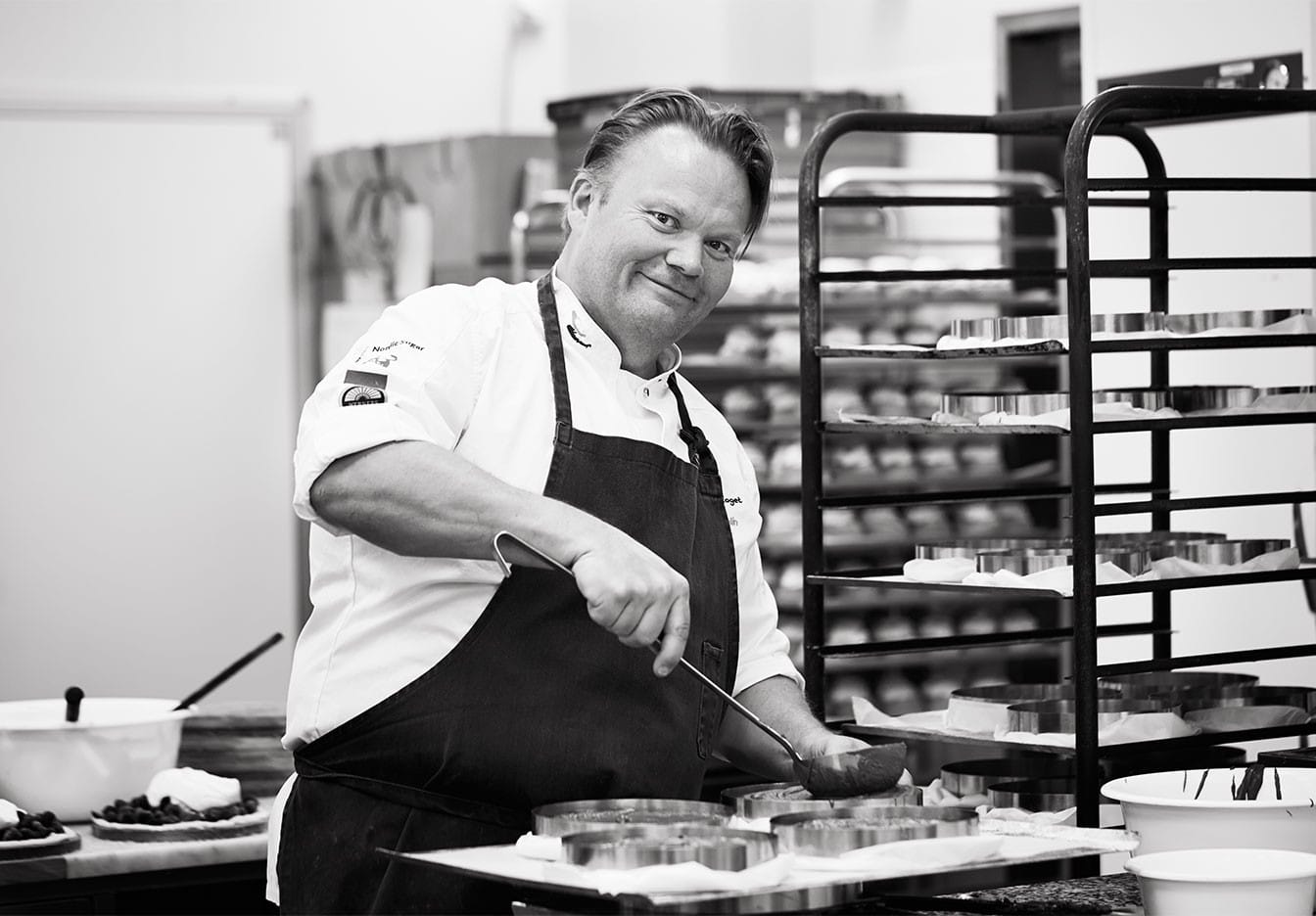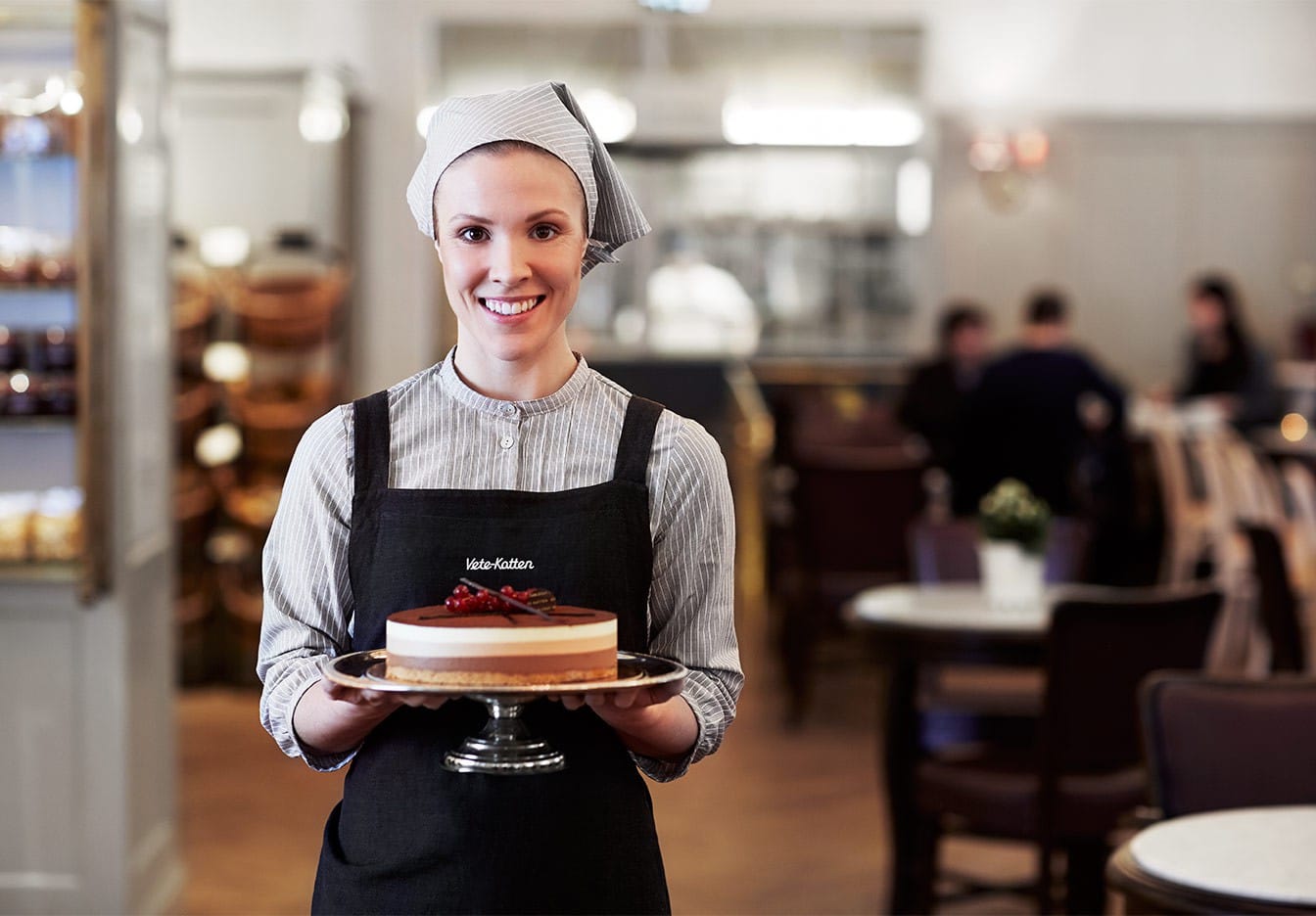 Work with us
Vete-Katten is a large workplace, and we regularly employ staff for our bakery, service, restaurant, cold-meat and kitchen teams. We are one of Sweden's largest and oldest patisseries and we wear our traditions with pride. The atmosphere here is characterized by care, joy and commitment, which we are keen to maintain. We are always interested in meeting motivated and talented people who thrive on a fast pace. Does the description fit you? Get in touch!
Bakery or ktichen
Service or store
ALLERGY & INTOLERANCE
We want everyone to be able to enjoy our high-quality pastries and bread. This naturally includes everyone with allergies or intolerances towards gluten or lactose, for example. Ask the staff on site about which pastries are right for you. If you are hypersensitive it is important to keep in mind that we are a bakery that handles large quantities of wheat flour, nuts, eggs and dairy products on a daily basis.
BLACK, AU LAIT, ESPRESSO, CAPPUCCINO AND LATTE
There are many kinds of coffee and what would a pastry shop be without a really good one? At Vete – Katten, we brew many hundreds of litres a day, so you can be sure we have a fresh pot ready for you. If you prefer an espresso or cappuccino, our baristas are ready to provide you with a tasty cup. If you are more of a tea drinker, we have everything from Rooibos and Chai to Earl Gray and Vete-Kattens own blends.